Choosing the right insurance is a complicated and uncomfortable task. How can you even know whether you need a specific type of insurance? Can you even afford it?
Generally speaking, it's better to have some type of insurance than to have none. But it still takes time to get one.
Luckily for us, the progress of internet services led to the digitization of the insurance business. One of the platforms where you can easily purchase a policy today is Policygenius.
We're here to answer all of the questions you could have about Policygenius. In this Policygenius review, we'll explain:
What is Policygenius?
What types of insurance does Policygenius offer?
How does Policygenius work?
What are its features?
How much does it cost?
What are the advantages and disadvantages of using Policygenius?
Is this platform the right choice for you?
What are some of the best Policygenius alternatives?
How can you own your finances?
We hope that this article will help you determine whether Policygenius will suit your requirements or not.
What is Policygenius?
Policygenius is an online insurance marketplace where you can purchase a wide variety of insurance from multiple insurance companies.
Policygenius itself isn't an insurance company, but it's affiliated with some of the best insurance companies on the market. You can utilize their platform to search for insurance options, get recommendations, compare prices and apply for insurance coverage.
This means that you won't be purchasing insurance from Policygenius, but it recommends one of the companies based on your requirements. Policygenius is the middleman.
Founded in 2014 by Jennifer Fitzgerald and Francois de Lame, Policygenius strives to digitize the process of insurance shopping and make it faster and easier.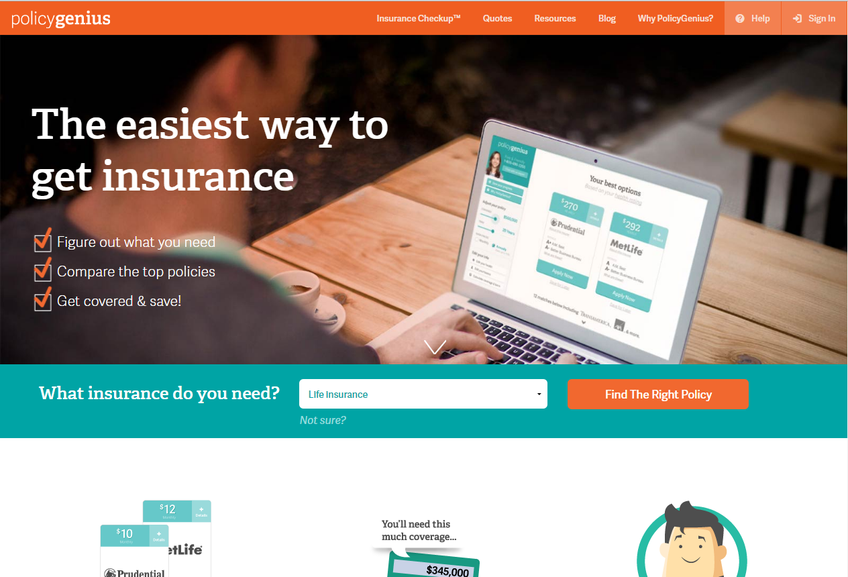 Policygenius insurance companies
Not every company can become an insurance provider for Policygenius, making it an exceptional platform for the online insurance business.
Policygenius only hosts offers from prominent insurance providers, which are:
AIG
Banner Life
Brighthouse Financial
John Hancock
Liberty Mutual
Lincoln Financial Group
Mutual of Omaha
Pacific Life
Principal Financial Group
Protective Life Insurance
Prudential
Savings Bank Mutual Life
Transamerica.
Insurance types Policygenius offers
Policygenius is filled with various insurance options for anyone who may need to purchase a policy, no matter their requirements. Here are some of the most noticeable types of policies offered by Policygenius.
Life insurance
When it comes to the most popular types of insurance policies on Policygenius, life insurance is probably the one. Different levels life insurance providers offer include:
Universal life insurance
Accelerated life insurance
Return of premium term life.
Choosing the right type from various life insurance quotes is a serious task where you'll need the help of an expert. In this case, you'll get a call from a Policygenius representative after you fill out all of the information to ensure that everything's alright.
Only 55% of Americans own life insurance, and most are underinsured.
Each of the life insurance providers associated with Policygenius has different criteria regarding life insurance, but factors usually include age, annual income, personal medical history, family health history, tobacco or alcohol consumption and past convictions. Additionally, you'll have to provide proof of taking a medical exam.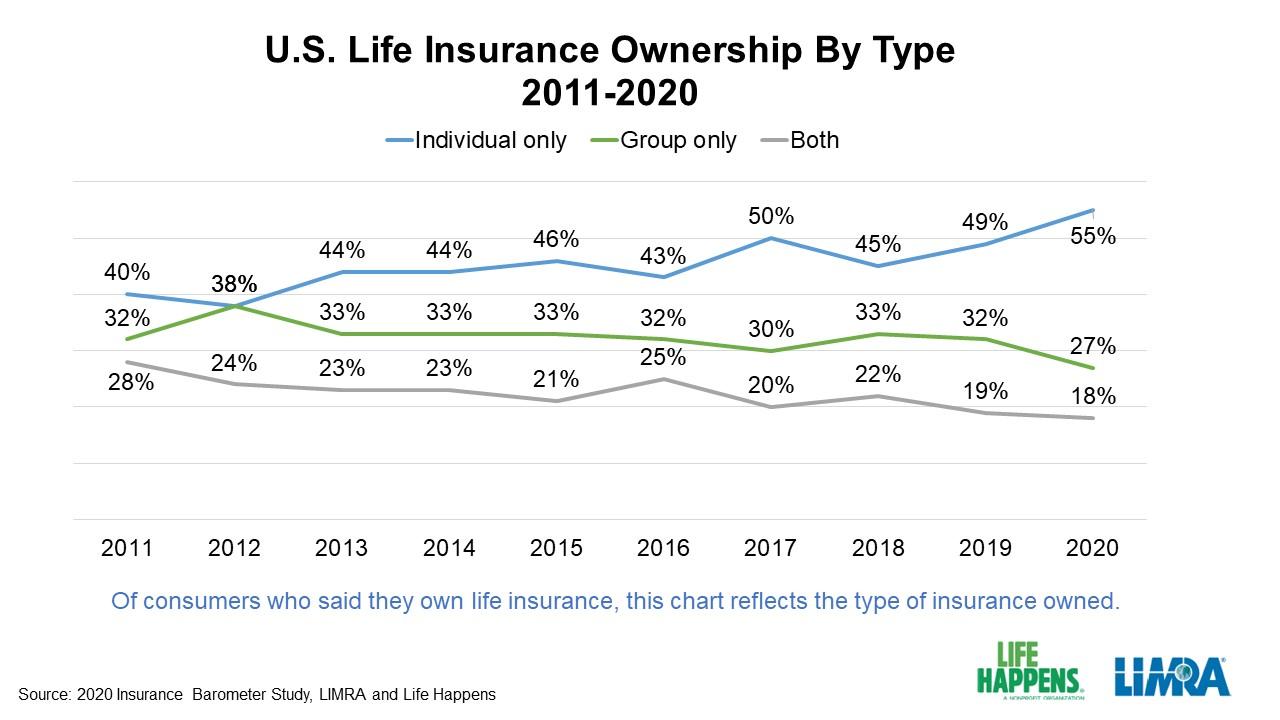 Homeowners insurance
Owning homeowners insurance is one of the best ways to protect yourself from unwelcome financial surprises that could happen to your home.
Getting home insurance is a generally lengthy and comprehensive process, but Policygenius makes it simpler. You need to fill out the information about your home, like when it was built, its size, renovations and other questions.
Next, you'll get a list of the best homeowners insurance options from the Policygenius partners.
Auto insurance
Protecting yourself financially in case of car accidents is not only responsible but also required, which is why you need auto insurance. According to data, 78% of insured drivers purchase comprehensive coverage.
You just need to enter information about yourself, your car and some additional details, after which Policygenius will provide you with possible quotes for car insurance within a couple of days.
Additional types
Policygenius also offers various types of insurance and makes managing multiple policies simple. You can get quotes on:
Renters insurance
Long term disability insurance
Pet insurance
Health insurance
Vision insurance
Identity theft insurance
Jewelry insurance
Travel insurance
And some other types.
Unlike life insurance policies, in the case of health insurance, Policygenius doesn't provide you with quotes from multiple companies. Instead, you'll get all the information about this type and insurance coverage, after which you'll be redirected to a proper website for it.
Depending on which insurance provider you choose, you may have to take an in person medical exam because some policies depend on your health conditions and family history.
How does Policygenius work?
As mentioned before, Policygenius isn't an insurance company. Instead, it's an online broker that helps people choose the right insurance based on their requirements and opportunities.
The first step you need to take is to fill out the required personal information. This basic information varies based on the type of insurance you're looking for and your own insurance needs, but it's data that will help you choose the right policy.
For example, if you're looking for car insurance you'll have to fill out basic information about your vehicle and yourself. And if you're looking to purchase renters insurance, you'll have to fill out the information about your housing, rent, and other conditions.
Next, the data will be run through algorithms and provide you with a list of the best options from various insurance providers, such as life insurance providers. After choosing a particular policy, you may be redirected to the insurer's website to continue your purchase.
This is simpler than working with independent brokers to get insurance quotes that meet your insurance needs.
Is Policygenius a trustworthy insurance company?
One of the main concerns regarding online businesses is whether they're trustworthy. In the case of using Policygenius, it generally deserves our trust.
Although it isn't the issuer of policies, Policygenius only works with the most reputable insurance providers. This platform has the financial rating of A-, given by the Better Business Bureau. The BBB rates trustworthiness based on transparency, honest advertising and responds to complaints.
How to get started
The first step you need to take when using Policygenius is creating an account. This simple action will help you track and manage your policies. They just need your name, email and password.
Next, to help personalize the offer, you'll answer three questions about you and your family, housing and employment.
After this, you can get your quotes by clicking on the "Get Started" button, where you can determine which type of insurance you're looking for and fill out all of the required info.
The in-depth questions are needed to ensure that you're opting for the right policy and that you fill out the requirements for it. For example, getting life insurance or homeowners insurance comes with a comprehensive questionnaire.
In the life insurance process, the end step includes a conversation with a Policygenius representative to make sure that all of the requirements and information about medical history are filled out, that you took your medical exam and that you know exactly what you're paying for. After this, you'll be redirected to one of the life insurance companies you opted for.
Policygenius features
Live customer support
Every good online marketplace needs to have great customer service, and Policygenius is no exception.
There are a couple of ways in which you can contact customer support on Policygenius to gain insurance advice from a licensed agent.
First, there's an online chat option at the bottom right corner of the screen that you can click on. This way, you'll start a chat with a Policygenius representative that can help you with problems you may encounter.
Customer support through online chat is available 24/7, and you can also send them an email at any time.
Additionally, you can call them over the phone to get in touch with representatives. This option isn't available at all times, but only Monday through Sunday, 9:00 a.m. to 9:00 p.m. ET.
Unfortunately, Policygenius doesn't offer face-to-face communication with representatives.
Multiple quotes and life insurance companies
As explained before, the best part of using Policygenius is that it provides you with a list of multiple quotes making it a one stop shop for getting insurance quotes.
The only thing you're required to do is put in data, whether about pet insurance or something else.
This feature saves you time and money, providing you with the best options as soon as possible and ensuring you get insight into the correct prices.
Working with representatives
Even though it's an online marketplace, Policygenius has expert representatives you can get in touch with when choosing or purchasing insurance.
The best part of this is that you won't have to worry even when talking to the insurance agent. They won't push you to purchase a particular policy as one of their aggressive sales tactics. Instead of working based on commissions, representatives at Policygenius have a regular salary, so they'll help you instead of doing whatever it takes to make a sale.
However, if you prefer talking to people face-to-face, this won't be the best option for you.
Multiple riders you can add
Last but not least, Policygenius lets you add various riders to your life insurance, as long as you pay a fee. Of course, this also depends on the different companies that Policygenius is affiliated with, but there are some of the riders we should mention:
Return-of-premium rider
Spouse rider
Child rider
Long-term-care rider
Critical illness benefit rider
Term insurance rider
Waiver-of-premium rider
Accelerated death benefit rider
Accidental death benefits rider
Guaranteed insurability rider
Policygenius cost
One of the most significant advantages of Policygenius is that creating an account on it and using it to find adequate insurance policies is an entirely free service. The only thing you need to pay for is the insurance itself.
The insurance business is a very competitive place. The companies strive to give people the best options at the best price, but they all have different requirements you need to fill out to apply.
This is where Policygneius steps in. You only need to fill out the required information once and they'll give you the quotes and price points for each option.
Additionally, the price you'll see on this website and the insurer's website is the same. Policygenius makes money on commissions, but they don't affect the price you'll be paying in the end.
Pros and cons
As with any website, Policygenius has its advantages and disadvantages. Here are some of the most prominent ones we should mention in our Policygenius review.
Pros
Ease of use
One of the most significant advantages of Policygenius is how simple it is to use. Purchasing an insurance policy is complicated by itself, but this platform works on simplifying it as much as possible.
Besides a plethora of information for those not versed in the insurance language, Policygenius also has a noticeably user-friendly interface.
Multiple options
The most significant advantage that we already mentioned is that Policygenius provides you with multiple options for your insurance at the same time.
No matter which type of insurance you're looking for, you only need to input your information to get the list of the best options. This saves you time and money.
Educational tools
Policygenius also works on providing you with insurance information. Every step of the questionnaires you fill out will be explained and you can access FAQ pages for every type of insurance to find out whatever you need to know.
Additionally, they have a tool called Insurance Checkup that will help you determine whether you're underinsured. It also lets you simply find out about things like coverage amounts, coverage limits, and medical exams.
Transparency
They don't advertise every company they're affiliated with within the best light. Instead, they're completely transparent with their pros and cons.
This transparency is why they're considered so trustworthy by many.
Representatives don't work on commissions
As mentioned before, representatives at Policygenius don't work on commissions, which means that they won't use aggressive sales tactics on you so that they can sell a particular policy or insurance products.
Cons
Not all insurers are available on Policygenius
Even though Policygenius is affiliated with some excellent insurance providers, they're not the best in every aspect. Some exceptional companies aren't affiliated with this platform, so you may have to do more digging. There are tens of thousands of insurance options.
Maybe not the right place to find serious policies
Suppose you're looking for some of the more stringent policies that require comprehensive questioning or you're in a sensitive or complex situation. In that case, Policygenius may not be the right place for you.
For example, if you're searching for a particular term life insurance or different insurance types, it may be better to contact some of the more prominent life insurance companies.
You're not buying insurance directly from the insurer
Some people prefer to purchase insurance directly from the insurer. In this case, nothing stops you from contacting the preferred insurance company directly after getting insights on Policygenius.
No mobile app
Tracking and managing your insurance policies is a serious task and you should always have access to your data. However, Policygenius doesn't have a mobile app that lets you do so on the go, which is a disadvantage.
Not talking directly to the representative
If you prefer talking to the representatives face-to-face for whatever reason, Policygenius isn't the right place for you. As mentioned before, you can only contact the representatives online.
Should you use Policygenius?
When shopping for insurance, you have to make sure you get as many options as possible.
There are plenty of insurance companies with various offers and requirements, but it will take time to fill out their questionnaires and see their offers.
This is what Policygenius is excellent for. You can save time and money by getting information for about a dozen companies.
On the other hand, there are a lot of companies that Policygenius doesn't work with that would give you better offers.
This is why the best option could be to gain as much information from Policygenius as you can and check out the other companies separately to make the most comprehensive comparison of offers and prices.
Whether you choose a company from Policygenius or an independent insurance broker to purchase car insurance, this will save you some time and money in the end.
Policygenius alternatives
The Zebra is an online insurance marketplace very similar to Policygenius. This platform also provides you with a variety of insurance that you can get various quotes for.
In general, The Zebra is better for policies for unique types of vehicles besides the standard policies.
Unfortunately, The Zebra doesn't have the live chat option when it comes to contacting the representatives, but you can still send them an email or talk over the phone. Just like Policygenius, The Zebra doesn't offer face-to-face contact.
After you input all of your data on The Zebra, you'll get a list of options, while some types of policies on Policygenius require a phone call with a representative to be approved.
Insurify
Another alternative to Policygenius is Insurify. Insurify is an online insurance marketplace where you can simply get the quote tool.
Insurify has plenty of common features with Policygenius, but the latter is better done.
For example, even though Insurify also has educational tools to help you figure out what's going on, Policygenius just has more understandable and easily accessible information.
We could say that Insurify is just a simplified version of Policygenius. When it comes to insurance, Policygenius is the better option.
Bestow
If you're just looking for life insurance, Bestow may be the best option. Their focus, as one of the life insurance companies, is on offering you the best term life insurance policies with different ranges and term lengths.
As mentioned in our Bestow review, it's fast, providing you with a final price for your life insurance in just minutes.
One of the main advantages of this website is that you don't need to take a medical exam to get life insurance. But, not taking a medical exam can make the price higher.
Own your finances with life insurance
As mentioned earlier, one of the various insurance options Policygenius offers is life insurance.
Choosing the proper life insurance is a serious task, but plenty of people don't know that it has more benefits besides those that'll come to your mind first.
One of those benefits is the possibility to ensure your financial freedom by utilizing your life insurance. To be more precise, your Whole Life insurance.
You can use your insurance policy to ensure your financial freedom and get other benefits.
We're here to teach you about the concept of Infinite Banking. Here are some of the most significant aspects you should know about it.
The first step of Infinite Banking is owning a Whole Life insurance policy.
Infinite Banking is a strategic method for utilizing your life insurance to create an endless banking system. To put it in other words, Infinite Banking means being your own banker.
Owning an overfunded life insurance has many benefits, one of them being that you can borrow money from it using your policy's cash value and repay it later. This way, you borrow money from yourself instead of a bank, and you pay it back to yourself with the rate of return, thus becoming your own bank, just without the fees usually involved.
Infinite Banking involves:
Overfunding (with after-tax funds) a high cash value life insurance policy from a life insurance company.
Accumulation of Cash Value (tax-free) throughout the years you are a policyholder of your life insurance policy.
Tax-Free Loans taken out against your life insurance policy's cash value to use for your financial expenses.
All of these aspects culminate in creating your own bank. You borrow from yourself while your life insurance policy still earns dividends even though you're using those funds elsewhere.
No matter what your financial objectives are, Infinite Banking can help you reach them. Entering the Banking Business gives you better control over your finances and helps you build wealth using the life insurance policy.
Final thoughts
Policygenius is a great platform to visit if you want to purchase an insurance policy while knowing precisely what you paid for. This platform gives you multiple options from a wide variety of policies, so you can choose the deal that best suits your requirements.
It's fast and straightforward, but you'll probably dislike it if you prefer face-to-face contact or if your situation is a bit complicated for traditional policies.
We hope that this Policygenius review helped you discover everything you should know about Policygenius and how it works. We also hope that it made you interested in the concept of Infinite Banking with Whole Life insurance.
If you want to learn more about Whole Life Insurance and improve your personal finances, you can sign up for our premium membership! We are looking forward to seeing you at the Wealth Nation community!