Minnesota Life Insurance Company was founded in 1880 in Saint Paul, Minnesota as "Banker's Association of Minnesota". The company expanded quickly and their adjustable life policy was one of the first flexible life insurance coverage options.
They have since earned a reputation as one of the most reliable and respectable financial institutions.
However, since Minnesota Life Insurance does not list their rates online or allow you to get online quotes, you're likely researching and double-checking this reputation yourself — before choosing your insurer.
Hopefully, this review will help you find all the information that you're missing.
Quick History
Minnesota Life is known under a couple of names since 1880. Here's how it happened:
In 2001, Minnesota Life created a company called Securian Financial Group to become its parent company.
In 2005, they re-branded to use the Securian name as an umbrella brand for the entire group of their affiliated companies.
Minnesota Life still operates under its own name today — but under the Securian Financial Group Inc name and banner.
Securian Financial Group now owns Minnesota Life Insurance Company and several other insurance and financial companies under its umbrella, which finally brings us to Minnesota Life's most current info:
Minnesota Life Insurance Company (Securian Financial)
Website: securian.com
Phone: (833) 810-8265
Address: 400 Robert Street North, St. Paul, MN 55101
Company Name (With Subsidiaries)
Securian Financial Services, Inc.
Securian Life Insurance Company (NY)
Securian Financial Group, Inc. (Parent)
Minnesota Life Insurance: Upsides VS Downsides
Minnesota Life offers a variety of individual life insurance and annuities: from term, whole, universal, and universal index life insurance, to retirement plans and group life insurance.
It also offers other forms of insurance like critical illness and disability coverage and investment planning.
Insurance Plans
Minnesota Life insurance offers group and individual life insurance plans, as well as supplementary coverage on employee group plans.
Individual plan options are sold through their financial professionals directly to consumers.
Term Life Insurance
Minnesota Life insurance offers term life insurance coverage for 10, 20, and 30 years, and there is the possibility of term conversion on your plan.
It offers both individual and group term life plans, and term group life insurance policyholders have an option to buy additional supplementary coverage.
Whole Life Insurance
Minnesota Life Insurance Company offers whole life insurance policies that build cash value that you can access with a policy loan. Whole life policies are available for groups and individuals.
Group whole life policies have an almost guaranteed issue, but a medical exam is required for an individual whole life policy.
Customers can purchase additional whole life coverage (if they're the policyholders under their group plan), but keep in mind that whole life premiums are more expensive than term life premiums.
Universal Life Insurance
Universal life insurance is a common source of supplemental retirement income. Minnesota Life offers universal life insurance policies with flexible premiums that allow you to build a tax-deferred cash value.
Availability:
You have flexibility around how much you pay in premiums, but your policy will lapse if you do not pay enough. On the other hand, you can adjust the benefit amount throughout your life if you want more coverage, or if any circumstances change.
Universal Indexed Life Insurance
Minnesota Life offers universal index life insurance policies which allow for flexible premiums — you choose how much you pay.
However, same as with universal life insurance policies, your policy will lapse if you don't pay enough.
Options:
Adjustable benefit amount (increases death benefit)
You can build cash value and take it out via a loan
Survivorship option (covers two people, the death benefit is paid once the second insured dies)
The indexed universal life allows you to add money to your cash value account and index it to a common equity index (like the NASDAQ-100). This can allow your account to grow at a faster rate, depending on the stock market performance.
Minnesota Life Riders
Minnesota Life offers several policy riders you can purchase for extra coverage on individual and group policies:
Child Life Insurance Rider: offers term insurance for your children
Accelerated Death Benefit Rider: provides the option to access your death benefit if you are diagnosed with a terminal illness
Accidental Death Benefit Rider: extra coverage if you die from an accidental death
Waiver Of Premium Rider: insures you in case you become totally disabled and unable to pay your premium
You will have to contact Minnesota Life Insurance to find out the cost of each rider and which ones you might be eligible for, because not all riders are available on all policies.
Customer Satisfaction
The National Association of Insurance Commissioners (NAIC) provides consumers with a rating of consumer complaints to help them better customer satisfaction with particular insurance companies. A company that receives an average number of complaints would score 1 on this scale, a company with a below-average number of complaints would score below 1, and a company with a higher than average number of complaints would score higher than

Minnesota Life has an NAIC complaint index of 0.13. This means that it received far fewer complaints than its competitors. In total, they have a 0.03% of the national complaint market share. Many of the complaints received were for things like billing errors and some occasional bad customer service.

AM Best is a consumer ratings agency that looks at a company's financial strength by using data that includes the company's business profile, performance, and balance sheet to determine how financially healthy it is and therefore its ability to meet its financial obligations like insurance payouts.

Minnesota Life has an A+ (Superior) rating from AM Best.

Cancellation Policy: Free-Look Policy:
Minnesota Life's cancellation policies include a free-look period of 20 days after you purchase your plan, although the length of the free-look period might vary by state. If you cancel your plan within that time frame, you get your full money back and pay no cancellation fee. After that free-look period, however, there might be a fee depending on your policy and you will have to fill out a surrender form so that they can determine the surrender value of your policy (if it is a permanent life insurance policy that accumulates cash value).
Talk to your Minnesota Life agent or financial professional about their free-look period and all the terms and conditions involved in canceling your policy before you purchase one.
Minnesota Life Premiums And Annuities
Your premiums will vary based on things that life insurance companies typically take into account, such as the type and level of coverage, the riders you've chosen, your age, gender, hobbies, smoking history, and general health.
Because Minnesota Life works with agents and financial professionals to sell its policies rather than selling directly to consumers, its policies might be more expensive than some of its competitors — however, none of this information is available online.
Minnesota Life has one phone number to call for both the group and individual plans (1-833-810-8260). Hotline hours are from 7:00 a.m. to 6:00 p.m. CT Monday to Friday, or you can contact the company via an online account or by email.
Minnesota Life offers individual annuities. These can help individuals ensure that they will have an income for the remainder of their lives, by paying out a guaranteed income stream on a regular basis, regardless of how long the person lives.
Sample Minnesota Life Insurance Rates
The following sample rates should give you some general perspective of how Minnesota Life does its underwriting.
Note: The numbers in both examples are general. Each individual is different and qualifies for their policy personally.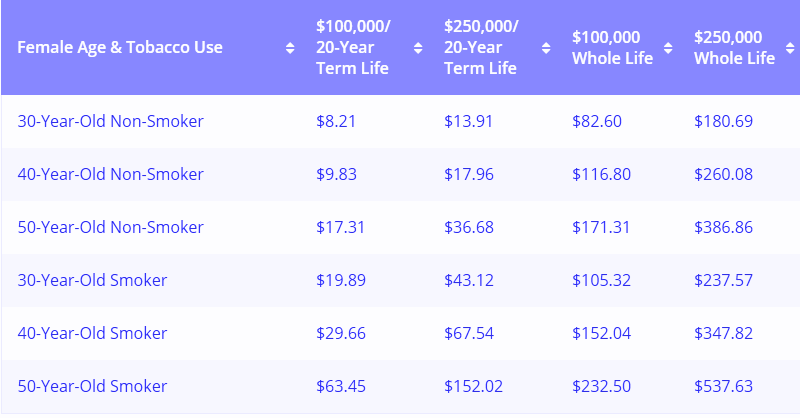 Minnesota Life Insurance Company Ratings
Here are the ratings given to the Minnesota Life Insurance Company by some of the most reliable ratings agencies, including Fitch, Moody, A.M. Best, and BBB.
Conclusion
Minnesota Life is an old company with a strong financial background, reliable for financial products.
"Minnesota Life Insurance policies include a strong range of affordable term and whole life insurance products starting as low as $7.04/month. With over 100 years in business, Minnesota Life Insurance Company ratings are solid and the company is financially stable."
Source
Their coverage amounts and quote calculators are not available online, so you will need to contact the company for that information.
Their products are most likely to appeal to those purchasing through an employer.
However, when it comes to individual insurance, there are a lot of companies where it's easier to obtain a quote, easier to apply for, and get a policy, with a likely more affordable premium.
Minnesota Life Pros
It's A Large And Respected Company Specializing In Life Insurance
Offers Term, Whole, Universal, And Universal Index Coverage, Long-term Care, Accidental Death, And Critical Illness Insurance
Offers The Option To Work With A Financial Professional
Additional Insurance From The Group Employee Plans Is Available
Minnesota Life Cons
Pricing Information Not Available Online
Few Policy Details On The Website
Selection Of Riders Is Limited
Getting A Policy Is More Complicated Than Other Companies
A piece of advice from Wealth Nation: carefully analyze all pros and cons from multiple sources to see if they fit your needs.
If you want to get insurance and proceed with the lifestyle banking system, we've got you covered on that front. Check our free masterclass first to see how this works and let us know what you think!